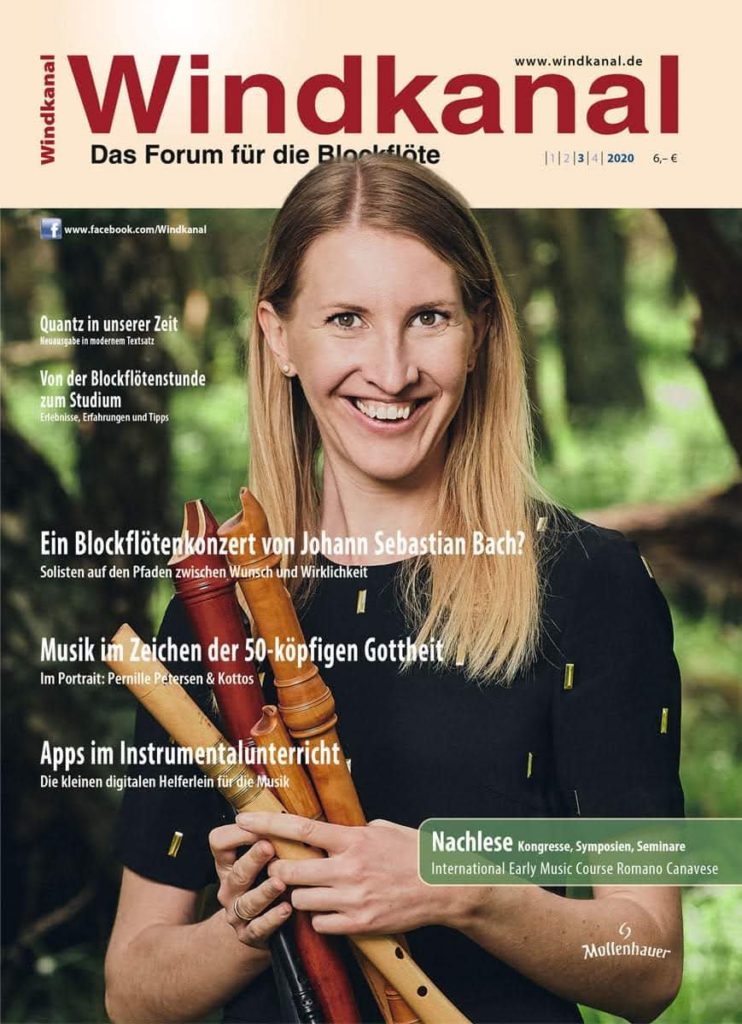 WINDKANAL FRONTPAGE – and interview
September 2020
Die dänische Blockflötistin Pernille Petersen (*1983) beginnt ihr Programm mit Bachs berühmte a-Moll-Partita für Flöte solo BWV1013. Die vier mittleren Tanzsätze stammen wohl aus einem Werk für ein Streichinstrument, was den Interpreten vor extreme atemtechnische Probleme stellt, die Petersen auf ihre Weise brillant löst. Weil im Original das Vorspiel und die abschließende Gigue fehlen, hat Viggo Mangor zwei Sätze zur Ergänzung der Partita komponiert, womit Pernille Petersen eine vollständige Suite spielen kann. Diese Solopartita und auch L'inconnu von Quantz werden bewegungsreich und rhetorisch dargeboten.
Die Annäherung des für diese Aufnahmen zusammengesetzten Ensembles an Telemanns verspielte Triosonaten sowie Händels Sonaten ist mustergültig. Mit gelassen weiten Tempo-Bögen wird die Fülle, die diese Musik ausmacht, aufs Genauste abgetastet. Neben allen virtuosen Leistungen entzückt aber auch die klangliche Vielseitigkeit. Ob in den galanten, den strengen oder den unterhaltsamen Passagen, die Musiker bieten ungemein lebendige Interpretationen an, die durch die historischen Instrumente noch unterstützt werden und die immer einen gewissen Charme versprühen. Es tut gut, diese Musik ohne allzu intellektuellen Ernst, dafür aber mit ernsthafter Spielfreude zu hören.
The Danish recorder player Pernille Petersen (*1983) begins her programme with Bach's famous A minor partita for flute solo BWV1013. The four middle dance movements are probably from a work for a string instrument, which presents the interpreter with extreme breathing problems. Petersen solves them brilliantly in her own way. Because the original version lacks the prelude and the concluding gigue, Viggo Mangor has composed two movements to complement the Partita, allowing Pernille Petersen to play a complete suite. This solo Partita and also L'inconnu by Quantz are presented in an agile and rhetorical way.
The approach of the ensemble composed for these recordings to Telemann's playful trio sonatas and Handel's sonatas is exemplary. Calm and steadily pulsating performances enhance the richness of this music. In addition to all the virtuoso performances, the tonal versatility is also enchanting. Whether in the gallant, the strict or the entertaining passages, the musicians offer immensely lively interpretations, which are further supported by the historical instruments and which always radiate a certain charm. It is good to hear this music played without too much intellectual seriousness, but instead with a serious joy of performing.