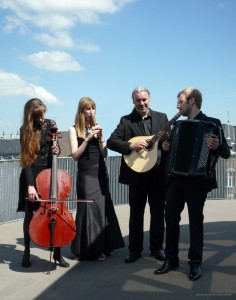 Josefine, Pernille, Christos and Bjarke met each other during their studies at the Royal Danish Academy of Music and they have been collaborating since in numerous concerts of classical music.
In 2013 they decided to get together and form a quartet, under the name of Kottos, to share their passion for alternative sounds & folk melodies.
Combining personal inspiration expressed in their remarkable way of performing as a unity, making common sentiments apparent in their music performances that are at the same time unique, as well as the cutting edge of contemporary music.
Read more and listen at www.kottos.dk
Duo med Bjarke Mogensen, accordeon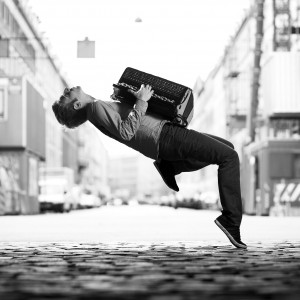 Man bliver overrasket over hvor smukt det lyder når blokfløjten smyger sig ind mellem accordeonets klange. Nogle gange kan man næsten ikke skelne instrumenternes klang og en tone kan ubemærket glide fra det ene instrument til det andet. De to instrumenter har meget forskellig baggrund; blokfløjten som et instrument med størstedelen af sit repertoire i den tidlige musik og accordeonet i den nye. Men der er mange punkter hvor man kan mødes, i baroksonater hvor accordeonet overtager cembaloets rolle, i nyskreven musik, i folkemusik. Duoen har uropført adskillige værket tilegnet dem og har haft koncerter i Danmark, Rusland, England og til næste år, Belgien. Første gang vi mødtes var bag scenen i Tivolis koncertsal i 2000, hvor vi stod og varmede op for at spille til overrækkelsen af guldmedaljer i Berlingske Tidenes Klassiske Musikkonkurrence. Siden da har Bjarke deltaget i adskillige konkurrer og modtaget Jacob Gades legat. Læs mere om Bjarke på www.bjarkemogensen.dk

From St. Petersburg Great Hall of Catherine Palace.